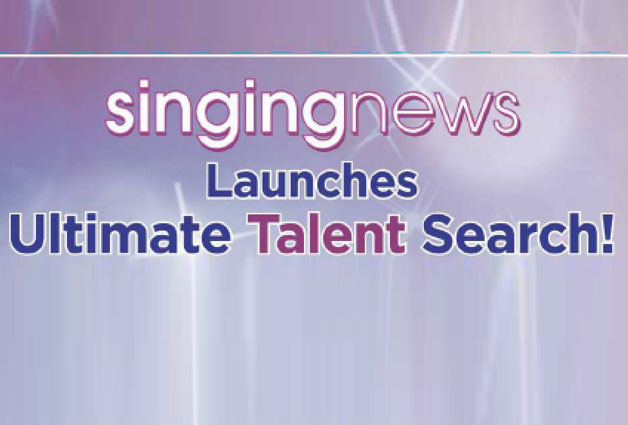 Singing News Launches Ultimate Talent Search
By
Staff
Thursday, December 15, 2016
Nashville, TN — Singing News Magazine, in association with the Singing News Radio Network, is pleased to announce the Ultimate Talent Search! This contest to discover the next major artist of Southern Gospel music will start in January and will culminate with a "Sing-Off" in the Nashville area in May 2017.
"Finally, there is a contest that will give the winning artist what they crave—a chance to perform on major concert stages across the country," stays contest coordinator Dave Wilcox. "In my years in the music business, I have been asked one question in every meeting with a new artist: 'Can you help me get dates?' New artists want to be heard and this contest will provide the winners those very chances."
View the information sheet below and you'll find links below where you can download the OFFICIAL ENTRY FORM and the OFFICIAL RULES
Artists—soloists or groups—may enter the contest provided he/she/they have never had a song appear on the Singing News Top 40 chart. Entry forms and complete contest rules may be viewed at singingnews.com or singingnewsradio.com. There is a discount for those artists the register using an 'early bird' discount.
The Top 10 semi-finalists will be invited to Nashville in May to perform live before a panel of Southern Gospel executives and industry insiders. The winner will receive the opportunity to perform live on some of the biggest concert stages our industry can afford. Leading concert promoters Bill Bailey, Paul Belcher, and Landon Beene will welcome the grand prize winner to their stages as a way of introducing the winning artist to Southern Gospel fans across the nation.
"I really am thrilled with the dates that we have assembled for the winning performer," stated Wilcox. "And we're not through yet—other major showcase opportunities for the winner will be announced soon!"
In addition to performing on these stages, the grand prize recipients will receive a one-time full page advertisement in Singing News, a live on air interview with the Singing News Radio Network, and three months advertising on both the magazine and network's websites.
All 10 semi-finalists will appear in a joint feature story in an upcoming issue of Singing News. In addition, all 10 semi-finalists will receive a certificate that they can use during the next 18 months to share one of their songs with through the New Music Review!
Entrants should log onto either singingnews.com or singingnewsradio.com to register for this once in a lifetime contest. If you prefer to not print your entry forms from the websites or if you need further information, contact Dave Wilcox by calling (615) 312-4233 or via e-mail at Dwilcox@salemmusicnetwork.com. You may your inquiries to to Dave Wilcox, Singing News 402 BNA Drive, Suite 400, Nashville, TN 37217.
Click the images below to download the ENTRY FORM and the OFFICIAL RULES.