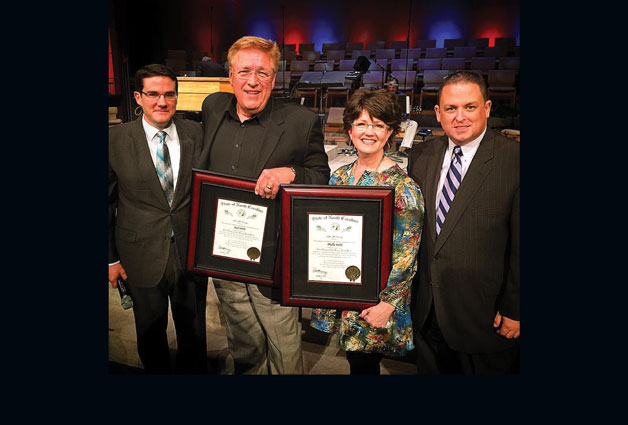 Rick and Phyllis Webb Honored with the Order of the Long Leaf Pine
By
Song Garden Music Group
Thursday, November 10, 2016
High Point, NC — Rick and Phyllis Webb were honored with the Order of the Long Leaf Pine from Governor Pat McCrory for their 40 years of ministry and service. The Order of the Long Leaf Pine Award is the highest award given to a civilian who has a proven record of extraordinary service to the state of North Carolina.
Rick and Phyllis Webb have ministered through music evangelism to nearly 3 million people worldwide, logging over 2 million miles and witnessing scores of people make public decisions for salvation through Jesus Christ during their concerts.
Beginning their musical journey in 1978 with Derric Johnson's Re'Generation, they have shared the platform with several noted leaders such as President Ronald Reagan, President George H. Bush, Dr. Zig Ziglar, Dr. Billy Graham, Governor Mike Huckabee, Governor Chris Christie, Dr. Mac Brunson, Dr. Chuck Colson, Dr. David Jeremiah, Dr. Charles Stanley and Dr. Gary Chapman just to name a few.
The goal of the Rick Webb Family is to reach the lost with the saving knowledge of Jesus Christ and to encourage the saints.
Mr. Wayne King presented the award for Governor Pat McCrory who was assisting in the flood relief from Hurricane Matthew. Pictured with Rick and Phyllis is Pastor Brandon Ware (pastor of their home church, Green Street Baptist Church) and Mr. Wayne King (Deputy Chief of Staff/District Director for Congressman Mark Meadows).
Watch Rick and Phyllis Webb's Order of the Long Leaf Pine Award presentation: https://www.youtube.com/watch?v=xwlusdyyr-c