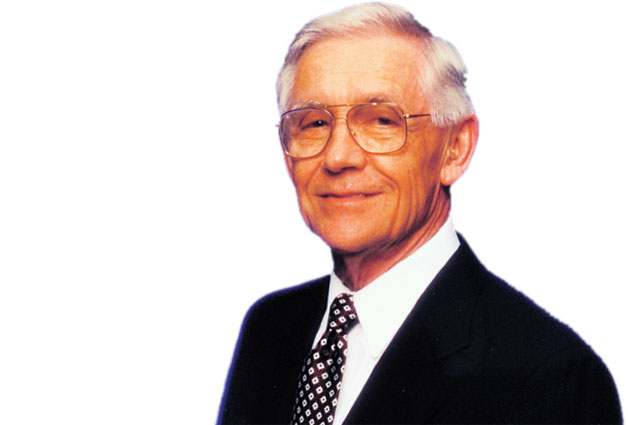 Mosie Lister Passes Away (UPDATED)
By
Staff/Mosie Lister Bio
Thursday, February 12, 2015
Singing News has learned that legendary Gospel music songwriter, Mosie Lister, has passed away. His music is spread around the entire Gospel music world, including a strong stable of songs being sung to this day by dozens of Southern Gospel artists. Mosie was inducted into the SGMA Hall Of Fame in 1997 and into the GMA Hall Of Fame in 1976. Mosie Lister's most-used songs include the following titles: "How Long Has It Been?" "Then I Met The Master," "Where No One Stands Alone," "'Til the Storm Passes By," "The King And I," "I've Been Changed," "I'm Feeling Fine." They have been recorded by such soloists as George Beverly Shea, Jimmy Davis, Elvis Presley, Porter Waggoner, Webb Pierce, Connie Smith, as well as scores of Gospel quartets..
Mosie Lister was born on September 8, 1921, in Cochran, Georgia, the son of Willis and Pearl Holland Lister.
When Mosie was twelve, Willis bought him his first violin, and Mosie found playing it a relatively easy skill to master, and hence developed a keen ear for music. This, combined with the available solitude of farm life allowed him to create finished musical performances of all types in his fertile imagination.
When he was eighteen, he traveled to the Vaughan School of Music in Tennessee to study harmony with Adger M. Pace, and G. T. Speer. In 1941 he proceeded to Tampa, FL, to join the Sunny South Quartet, adding his baritone voice to those of Clide Cain, Horace Floyd, Lee Kitchens, and pianist, R.D. Ginnett.
In 1946 he met and married Wylene Whitten. They moved to Atlanta, where they were blessed with identical twin daughters, Brenda & Barbara. Mosie's singing career continued to evolve as Mosie, Lee, and "Chief" established the Melody Masters quartet, pulling in Alvin Tootle on first Tenor and Wally Varner on piano. This provided an opportunity for him to begin innovating new sounds and ground-breaking vocal arrangements.
After a break from singing due to a respiratory infection, Mosie regained his health and helped Hovie Lister (no relation) build a new quartet which became the original Statesmen. In time, Mosie relinquished his singing career, but stayed with the Statesmen as their writer/arranger. These were golden years for the Statesmen as they became immensely popular with such hits as "Goodbye, World, Goodby, "I'll Leave It All Behind", "I'm Bound for the Kingdom", and "Sunday Meetin' Time".
By 1953, Mosie had formed his own publishing company, and was so busy with writing, arranging, and company business, Wylene asked him why he didn't just quit his day job and write music. Mosie knew of no one who had supported a family in this way, but after some intense prayer, he did quit his day job, and God affirmed his choice by blessing him with some of his best songs that year.
Wylene passed away in 2001, and within the next two years Mosie had made some big decisions. He married Martha Hunter, and the newlyweds moved to Tennessee, where they live near Martha's daughter Vicki (wife of Booth Brothers tenor Michael), and Mosie's daughter Barbara (married to David Williams, a veteran music minister, keyboardist and arranger).
The Booth Brothers posted this to their Facebook page today: "Our precious friend and mentor Mosie Lister went home to glory this morning at 9:07 AM central time. Mosie's songs are the bedrock of our music. We ask that you pray for the family at this time. We love you Mosie. Till we meet again we will cherish the memories."
Arrangements are as follows:
Visitation will take place Monday, February 23, 2015 from 4-8pm at Williamson Memorial Funeral Home and Cremation in Franklin, TN, 615-794-2289
www.williamsonmemorial.com

A Homegoing Celebration Concert will take place at 11am Tuesday, February 24, 2015 at the People's Church, 828 Murfreesboro Rd. Franklin, TN.

A private graveside service will take place at Williamson Memorial Gardens.

Active pallbearers: Steve Mauldin, Michael Booth, Ronnie Booth, Jim Brady, Josh Butterworth and Jake Sammons. Honorary pallbearers: Bill Gaither, Joe Huffman, Ron Booth, David Williams and Jimmie Vann.

Memorials may be made to the Community Baptist Church ℅ Missions and Music, 3015 Bellshire Village Dr. Spring Hill, TN 37174
*Note: content from the official Mosie Lister website was used in the creation of this story.