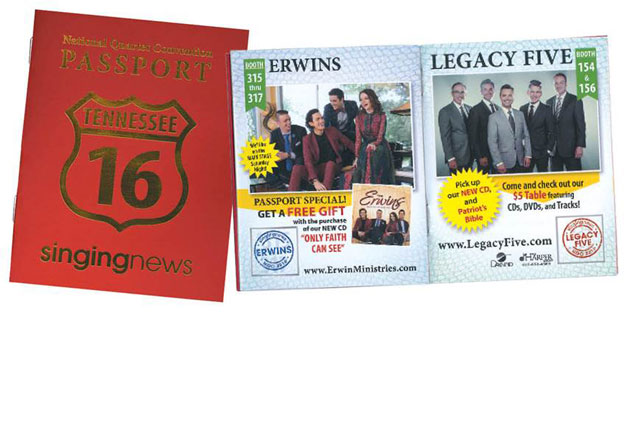 Singing News NQC Passport is a Winner!
By
Staff
Monday, June 19, 2017
Nashville, TN — Singing News has just been informed that the 2016 Passport that was created in celebratation of the National Quartet Convention has received a major award! The Printing Industry Association of the South presented Singing News with its "Award of Excellence" for the concept, design, and printing quality of the Passport. Our print partner, Ambrose Printing of Nashville, Tennessee, nominated Singing News and the Passport for the award. "Our entire team did a fabulous job on the Passport," states Dave Wilcox who created and led this project. "Our team is passionate about doing great work and I'm thrilled for everyone that a major trade association like PIAS recognizes everyone's efforts. The entire team deserves this award!"
Now is the time to reserve your space for the 2017 Singing News Passport for the National Quartet Convention. Contact Amber Butler at 615-900-7563 or Pam Slaney at 828-264-3700 for complete details.