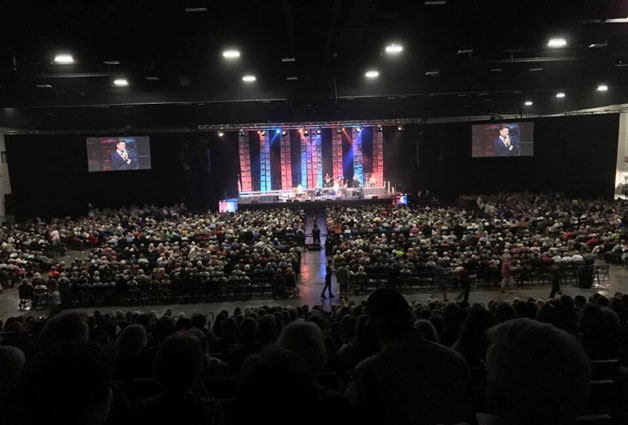 Annual Singing In The Sun Now Under Way This Week At The Myrtle Beach Convention Center
By
Abraham Productions
Thursday, April 27, 2017
Myrtle Beach, SC - The exciting sounds of Southern Gospel music are ringing loudly this week at the Myrtle Beach Convention Center, as more than two dozen of Southern Gospel Music's most popular recording artists come to Myrtle Beach for the Annual Singing In The Sun. This exceptional event features nightly concerts with many of Southern Gospel Music's most popular names, including The Hoppers, The Triumphant Quartet, Greater Vision, Jeff & Sheri Easter, The Whisnants, Brian Free & Assurance, The Talley Trio, Karen Peck & New River, The Booth Brothers, Ivan Parker, and Grammy nominated recording artist, The Martins.
Numerous noted speakers and authors are being featured throughout the week. Dr David Jeremiah, Senior Pastor of Shadow Mountain Church and founder of Turning Point Ministries, based in El Cajon, California, was featured on Tuesday evening. Other noted speakers scheduled to appear throughout the week include CT Townsend, Dr. Herb Reavis and Dr. Robert Jeffress, Senior Pastor of First Baptist Church Dallas, who is a regular Fox News Contributor and has made more than 2,000 guest appearances on such Fox News programs as Fox & Friends, Hannity, and Lou Hobbs Tonight. Dr. Jeffress has authored 24 books, including "A Place Called Heaven: What Jesus Is Preparing For You" to be released in September. Dr Jeffress will speak on Friday evening. Dr. Jon Bowman will serve as the keynote speaker Saturday. Also featured on Saturday evening's program will be Grammy Award winner Jason Crabb and NBC's The Voice finalist, Emily Ann Roberts.
---TICKETS STILL AVAILABLE---
Tickets are on sale now and available on site at the Myrtle Beach Convention Center or may be purchased by calling 1-888-238-6858. Special Artist Circle seating is available, as well as reserved and general admission seating. Multi-night ticket packages are also available.