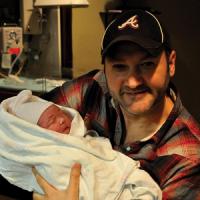 New Addition For The Shivers Family
By
Daywind
Saturday, March 01, 2014
Hendersonville, TN - Bill Shivers of the Southern Gospel group Brian Free & Assurance, his wife Michelle, and two daughters, Brittany and Sarah, were thrilled to welcome a beautiful baby boy into their lives on February 25, 2014 at 1:50 p.m., in Villa Rica, Georgia. William Brent Shivers III weighed 9 pounds, 13 ounces and was 20 inches in length.
Bill stated proudly "We are very excited about our newest male addition to the family. My son might have been unexpected by my wife and I but he is truly a blessing from God! I can't imagine my life without him at the moment! I Love my "Lil Chunk" as I call him. He is a gift in every way."
They are thankful for the many prayers and well wishes they have received.
If you would like to congratulate them please visit Brian Free and Assurance's Facebook page at www.facebook.com/brianfreeandassurance