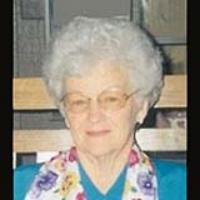 Lucille Burleson of True Gospel Quartet Passes Away
By
Tim Gardner
Tuesday, January 28, 2014
BARNARDSVILLE, NC - Lucille Harris Burleson, long-time alto singer and pianist for the True Gospel Quartet, went home to be with the Lord, January 21, 2014 at the age of 82.

Mrs. Burleson was born September 14, 1931 in Buncombe County where she had lived most of her life. She and her late husband, Herman, sang many years with The True Gospel Quartet.

Surviving Ms. Burleson are her sons, Roger Burleson and wife Judy of Palm City, FL and Ray Burleson and wife Jan of Barnardsville; three grandchildren and a host of other family, relatives and friends.

The Celebration of Life service were held at 2:30 p.m. on Monday, January 27, 2014 in the Chapel of West Funeral Home, 17 Merrimon Ave., Weaverville, with Reverends Kenny Stump and Wesley Pike officiating. Burial is in Greenwood Cemetery, Barnardsville.

Music at the services was provided by the Primitive Quartet and the Garrison Sisters as well as recordings of Ms. Burleson and the True Gospel Quartet.

Letters and notes of condolence may be sent to: The Lucille Burleson Family, C/O Ray Burleson, 23 Martins Creek Road, Barnardsville, NC 28709.