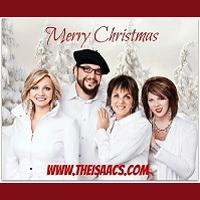 "An Issacs Family Christmas" To Air On TBN
By
The Isaacs
Wednesday, November 20, 2013
Nashville, TN (November 19, 2013)- The Isaacs recently taped a new Christmas special for TBN entitled "An Isaacs Family Christmas".
This special features songs from their latest Christmas CD "The Isaacs Christmas" as well as impromptu performances by the Isaacs and their families. You will see the Isaacs as they tell stories, read scriptures, go shopping, cook Christmas dinner and share their annual traditions for both Christmas and Hanukkah.
Also joining them for live performances is Brandon Heath, Miss Jamie Grace and her sister Morgan as the duet ...Harper Still.
The date and times for the special to air will be announced at a later time.