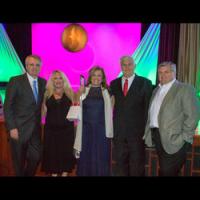 Dottie Golt Leonard Miller, President Of New Day Dsitributors receives Lifetime Achievement Award from the GMA
By
Judy Nelon Group
Wednesday, November 13, 2013
(Nashville, Tenn) November 12, 2013 - Dottie Golt Leonard Miller, President and CEO of New Day Christian Distributors, received the Lifetime Achievement Award from the Gospel Music Association at this year's GMA Dove Awards held in Nashville, TN. The Lifetime Achievement Award is presented to a person or entity that has made a monumental impact on the Gospel industry for 20 or more years. Speaking to a packed house, Golt Leonard Miller thanked her family, employees, the suppliers, and the Christian bookstores for believing in her dream and helping make it a reality.
Golt Leonard Miller founded New Day Christian Distributors over 32 years ago in her garage with a $10,000 investment from her parents, brother, and family friend. Over the years, New Day has grown into a major source of distribution for the Christian retail market. Companies represented by New Day include major independent record labels Tooth and Nail, Tone Tree, and Daywind, along with high profile corporations like Simon and Schuster, Capitol, Warner, Fisher Price, Melissa and Doug, Duck Commander and many more.
Golt Leonard Miller also founded, owns and operates Daywind Records, Daywind Soundtracks, Daywind Music Publishing, and Daywind Studios.