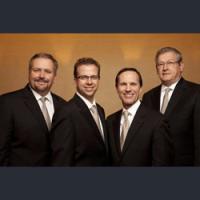 Blackwood Brothers Inducted Into Memphis Music Hall Of Fame
By
The Commercial Appeal
Monday, November 11, 2013
All through the night there were stories and memories, the testimony of family friends and colleagues, but more than anything there were songs, as the Memphis Music Hall of Fame inaugurated its second annual class during ceremonies Downtown Thursday night.
Included in the nominees was long-running Southern Gospel quartet, the Blackwood Brothers. Joining the Blackwood Brothers were music icons such as Johnny Cash, Albert King and several others.
The music and awards officially kicked off with rousing gospel performance honoring the late Rev. Brewster. The East Trigg Baptist Church choir was led by Brewster's great-granddaughter. Kentosha Brewster Evans.
That was soon followed by another nod to Memphis' spiritual music legacy, with the induction of the Blackwood Brothers Quartet. Accepting on behalf of the group, second generation member Billy Blackwood noted that the quartet would be celebrating its 80th anniversary next year. Blackwood added that it was fitting for the group to be included among so many disparate types of artists. "Music, in all its forms, pays glory to God," said Blackwood.
*Information from The Commercial Appeal, in Memphis, TN, was used for this article.