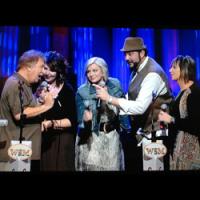 Isaacs Warmly Received At Grand Ole Opry
By
AG Publicity
Tuesday, September 17, 2013
Nashville, TN (September 17, 2013) The Isaacs have now been honored to appear multiple times at the Grand Ole Opry in Nashville, TN. The Isaacs once again received a very warm welcome when they sang on Saturday, August 31st.
The crowd was into their singing from the first song, "The Living Years", but when they sang "Mr. In-Between" and the ladies broke into those close harmony parts, you could actually hear some swooning going though the crowd.
For their last two numbers special guest Bill Gaither joined them on stage. The audience cheered when Bill joined them on the a capella rendition of "Walk together Children", however with the final song of the classic Dottie Rambo tune "If That Isn't Love" the crowd erupted giving them a standing ovation.