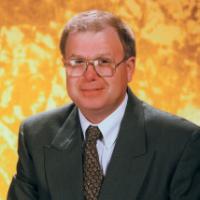 Wayne Wallace, Host Of The Dixie Gospel Caravan, Passes Away (Updated with Funeral Arrangements)
By
Staff
Tuesday, September 03, 2013
Well-known Southern Gospel radio personality, Wayne Wallace, has passed away at the age of 68. Wayne has been the host of "The Dixie Gospel Caravan" on WDJC / WXJC in Birmingham, Alabama for 45 straight years. The Dixie Gospel Caravan features music and interviews with Southern Gospel artists and other personalities from around the Gospel music world.
Wayne has been a recipient of the "Golden Mic" award in Singing News Magazine, and was voted by the fans as the DJ Of The Year many times in the Singing News Fan Awards. Wayne has also been honored by the SGMA as the Radio DJ Of The Year in 1999.
Funeral services will be held Saturday, September 7, 2013 at 10:30 a.m., at Briarwood Presbyterian Church Chapel. The family will receive friends Saturday from 9:30 a.m., until 10:30 a.m., at the church. Online condolences may be sent to www.bessemerbrownfh.com.