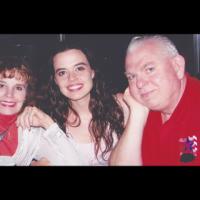 Dr. Charles L. Paxson, Jr., father of Sweetwater Revival's Katie Paull, Passes Away
By
Staff
Friday, August 30, 2013
Picture (L-R) Songwriter Cathie Paxson, Founding Member of Sweetwater Revival Katie Paull, Dr. Charles Paxson
Minneapolis, MN - Sweetwater Revival's founding member Katie Paull experienced a devastating loss this past August when her father went home to be with The Lord at only 67 years of age.
Dr. Charles L. Paxson, Jr., passed away on August 5, 2013, after a long two year battle with cancer. He took his last breath in his own home with his wife Cathie Paxson holding his hand & singing to him.
Cathie is a seasoned Southern Gospel songwriter & the long time Manager for Sweetwater Revival. Dr. Paxson was a Neonatologist for 40+ years, saving countless pre-mature babies lives. He was instrumental in helping to start the ministry of Sweetwater Revival & will be truly missed.
Cathie, Katie, & Sweetwater Revival cherish your prayers at this difficult time.