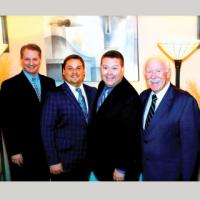 The Skyline Boys Announce Exciting Changes
By
Vertical Sky
Friday, August 30, 2013
Nashville, TN - Powerhouse quartet,
The Skyline Boys
, are pleased to announce exciting changes and happenings with the group.
The first is the return of one member and the addition of another. Outstanding tenor singer, Jodi Hosterman, is back with The Skyline Boys. The group is thrilled to welcome him, along with a brand new addition, lead singer, Brian Alvey. Alvey, who is new to The Skyline Boys, is not at all new to Gospel music. Both gentlemen have vast experience and tremendous talent. The two, along with bass singer and group owner, Dennis Powers, and baritone singer, Chris Little, are excited about the days, months, and years ahead as they strive together to serve God and share the music that tells the story of His love.
The latest great news for the prominent Southern Gospel Quartet is a brand new, long term booking agreement with the acclaimed Dominion Agency (one entity of the mutil-faceted Michael Davis & Associates). Dennis Powers shares, "God is doing things we couldn't do and we are very excited about being with Michael Davis at Dominion Agency. Everything we do is only possible because of the hope of Christ and our prayer is that every door He leads us through will lead us and others closer to Him."