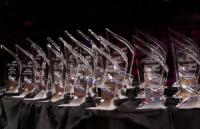 Get Your 2013 Singing News Fan Awards Tickets Before It's Too Late!
By
Staff
Wednesday, August 21, 2013
There are a limited number of 2013 Singing News Fan Awards and SGMA Hall Of Fame Induction Ceremony tickets left, so it's time to get your tickets while they last!
The Singing News Fan Awards is the Southern Gospel industry's PREMIERE fan-voted awards show. Every year, the readers of Singing News Magazine cast their votes for their favorite artists and musicians. This year's votes are in, so all that is left is to get your tickets so you can be there to watch every award, every performance and every Hall Of Fame induction AS IT HAPPENS.
The 2013 Singing News Fan Awards is going to be hosted by a number of your favorite Southern Gospel artists. This year's hosts include: Michael Booth, Ronnie Booth, Brooklyn Collingsworth, Courtney Collingsworth, Kim Collingsworth, Jeff Easter, Morgan Easter, Connie Hopper, Dean Hopper, Mike Hopper, Debra Talley, Lauren Talley, Mark Trammel and Nick Trammel. Along with your hosts, you will get to enjoy live performances by your favorite artists and groups throughout the show.

So purchase your tickets BEFORE IT'S TOO LATE. Seating is limited, and tickets WILL sell out. To order tickets, contact the SGMA by calling (865) 908-4040, or go to their website at www.sgma.org for more information.