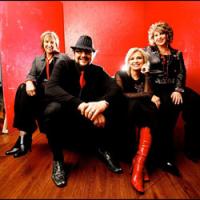 The Isaacs Appear At The Grand Ole Opry
By
Harper Agency
Monday, July 15, 2013
Nashville, TN (July 8, 2013) - Gospel/Bluegrass/Country artists The Isaacs gave a spectacular performance at Nashville's Grand Ole Opry last Friday evening, July 5th. The Isaacs performed on two shows of this star studded night that included artists Carrie Underwood and The Band Perry as well as the great Opry regulars.
Lily Isaacs stated "The people at the Opry always make us feel so comfortable. General Manager of the Opry, Pete Fisher, never fails to make this a pleasant experience, and the performers are the greatest musicians in the world."
Performing two sets at 7:00PM and 9:30PM with hosts Bill Anderson and Mike Snyder, The Isaacs sang a couple of songs from their soon to be released album 'The Living Years'. Those in attendance witnessed their rendition of the Dottie Rambo classic "If That Isn't Love", and there was plenty of hand-clapping when they started singing "Walk On" penned by Sonya Isaacs Yeary, Becky Isaacs Bowman, and Ronnie Bowman (coincidentally not related to Becky).
Ben Isaacs said "Being at the Opry is always a fun filled night, but this time we had Becky's husband John Bowman and my Gaither Homecoming buddy Kevin Williams playing with us. It was a great night."