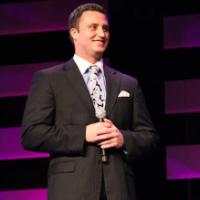 Mark Trammell Quartet Welcomes New Tenor Vocalist
By
Mark Trammell
Thursday, May 16, 2013
Gadsden, AL - GREAT NEWS!!!!! On his 26th birthday, Dustin David Black has accepted the position as the new tenor vocalist for Mark Trammell Quartet! Dustin is from Saginaw, Michigan, and will soon become a "southern boy."
Mark shares the following..."We are SO excited about Dustin coming on board and we look forward to what is in store for both Dustin and MTQ. I am still convinced that God knows exactly what we need and when we need it." Dustin has been traveling with the group on a 90 day trial basis. He is a brand new face to gospel music and has already made many new friends across the country with his winning smile and warm personality. He has proven to be a true Christian Gentleman in every way. Mark continues, "I was immediately impressed with this young man and his ability to just be one of the boys. Dustin had only been to one gospel concert prior to walking on our bus. It was a Gaither event in California a few years back while he was finishing his Masters degree in music at West Coast Baptist College."
When Mark was asked about having a "yankee" on his bus, he smiled and replied, "Its certainly a first for me, but we will eventually get accustomed to the smell!"
When you see MTQ in concert in the coming days, make it a point to stop by their table and welcome this fine young man to the world of gospel music.
HAPPY BIRTHDAY DUSTIN and WELCOME TO Mark Trammell Quartet!!!
Photo courtesy of Erin Stevens - photosforkeepsbyerin.com