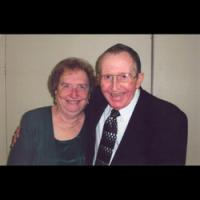 Little Jimmy Taylor Passes Away, Arrangements Announced
By
Ric CampBell
Wednesday, May 15, 2013
According to the Little Jimmy Taylor & The Campbells Facebook page, Little Jimmy Taylor has passed away due to health complications. Here is the full Facebook announcement:
"This is Ric CampBell with an update on Little Jimmy Taylor. Monday May 13th at 10:10pm the Lord graciously gave Jimmy ultimate healing and he is now with his Lord and Savior. Earlier in the afternoon he stopped responding to treatment and we were consulted by the doctor as to what the family's wishes were. He passed peacefully in his sleep and his last moments on earth were a tribute to the words of his song, "When at the Jordan I'll have no fear for He has promised that he would be near. No more sorrow; no doubt no fear for He'll abide with me."

Mom is understandably suffering loss but is buoyed by the promise of her Lord "absent from the body, present with the Lord."

So many of you have prayed and offered support and on behalf of the family I thank you. I would tell you that in this time of reflection that our lives are but just a vapor take a moment to tell somebody you love "I love you" while you still can and share the good news that although the wages of sin is death, the GIFT of God is ETERNAL LIFE THROUGH JESUS CHRIST OUR LORD. To Him be all the praise, the glory and the honor now and forever. The Lord be with you all."
The arrangements are as follows:
Saturday May 18, 2009
Liberty Baptist Church
9401 4th St. N.
St. Petersburg, FL 33702

Viewing 12:00pm to 1:00pm
Service 1:00pm to 2:00pm

Interment will be at Memorial Park Cemetery 54th Ave N. and 49th St. N. immediately following the service.