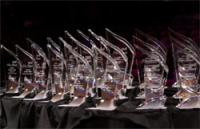 2013 Singing News Fan Awards Second Round Voting Results- TOP FIVE Finalists Announced!
By
Staff
Monday, May 13, 2013
The second round of voting for the 2013 Singing News Fan Awards, the Southern Gospel Industry's PREMIERE fan-voted awards, is now over, and the readers of Singing News Magazine have cast their votes for who they think is the TOP FIVE nominees in each available category.
Singing News Magazine subscribers will soon be able to vote for their favorites among these results when the second round of voting begins. If you would like to vote in the second round, but are not yet a subscriber to Singing News Magazine, click here to see multiple ways you can subscribe and be eligible to vote before it's too late!
2013 Singing News Top 5 Fan Award Nominations
Favorite Artist
1. Booth Brothers
2. Collingsworth Family
3. Greater Vision
4. Perrys
5. Triumphant Qt
Favorite Traditional Quartet
1. Brian Free & Assurance
2. Kingdom Heirs
3. Legacy Five
4. Mark Trammell Qt
5. Triumphant Qt

Favorite Mixed Group
1. Collingsworth Family
2. Hoppers
3. Isaacs
4. McKameys
5. Perrys
Favorite Trio
1. Booth Brothers
2. Greater Vision
3. Jeff & Sheri Easter
4. Karen Peck & New River
5. Whisnants
Favorite Soloist
1. Bishop, Mark
2. Crabb, Jason
3. Greene, TaRanda
4. Parker, Ivan
5. Penrod, Guy
Favorite Male Singer
1. Bennett, Eric- Triumphant Qt.
2. Booth, Ronnie- Booth Brothers
3. Habedank, Joseph- Perrys
4. Parker, Ivan- Soloist
5. Rice, Arthur- Kingdom Heirs
Favorite Female Singer
1. Easter, Sheri- Jeff & Sheri Easter
2. Gooch, Karen Peck- Karen Peck & New River
3. Greene, TaRanda- Soloist
4. Hopper, Kim- Hoppers
5. Stuffle, Libbi- Perrys
Favorite Young Artist
1. Collingsworth, Olivia- Collingsworth Family
2. Easter, Morgan- Jeff & Sheri Easter.
3. Ivey, Trey- Legacy Five
4. Thompson, Amber- Nelons
5. Wilburn, Jordan- Wilburn & Wilburn
Favorite Tenor
1. Allman, Chris- Greater Vision
2. Booth, Michael- Booth Brothers
3. Free, Brian- Brian Free & Assurance
4. Phelps, David- Gaither Vocal Band
5. Sutton, David- Triumphant Qt
Favorite Lead
1. Booth, Ronnie- Booth Brothers
2. Habedank, Joseph- Perrys
3. Inman, Clayton- Triumphant Qt
4. Rice, Arthur- Kingdom Heirs
5. Wolfe, Gerald- Greater Vision
Favorite Baritone
1. Brady, Jim- Booth Brothers
2. Griffin, Rodney- Greater Vision
3. Inman, Scott- Triumphant Qt
4. Lowry, Mark- Gaither Volcal Band
5. Trammell, Mark- Mark Trammell Qt
Favorite Bass
1. Barker, Pat- Mark Trammell Qt
2. Bennett, Eric- Triumphant Qt
3. Holcomb, Mike- Inspirations
4. Riley, Tim- Gold City
5. Stuffle, Tracy- Perrys
Favorite Soprano
1. Alvey, Lauren Talley- Talleys
2. Collingsworth, Brooklyn- Collingsworth Family
3. Gooch, Karen Peck- Karen Peck & New River
4. Hopper, Kim- Hoppers
5. Yeary, Sonya Isaacs- Isaacs
Favorite Alto
1. Collingsworth, Courtney- Collingsworth Family
2. Easter, Sheri- Jeff & Sheri Easter
3. Hopper, Connie- Hoppers
4. Stuffle, Libbi- Perrys
5. Whisnant, Susan- Whisnants
Favorite Musician
1. Collingsworth, Kim- Collingsworth Family
2. Fortner, Roger- McKameys
3. Mote, Gordon- Soloist/Gaither Vocal Band
4. Stice, Jeff- Triumphant Qt
5. Williams, Kevin- Gaither Vocal Band
Favorite Band
1. Dove Brothers
2. Gaither Vocal Band.
3. Isaacs
4. Kingdom Heirs
5. Primitive Qt
Favorite Songwriter
1. Bishop, Mark
2. Brady, Jim
3. Griffin, Rodney
4. Habedank, Joseph
5. Inman, Scott
Favorite Album
1. Count Me In- Hoppers
2. Greatest Hits-Live- Booth Brothers
3. Nothing But Love- Brian Free & Assurance
4. Our Most Requested Live- Greater Vision
5. Through The Night- Perrys
Favorite Song
1. All Is Well- Whisnants
2. Good News From Jerusalem- Tribute Qt
3. He Didn't When He Could Have Passed By- Greater Vision
4. I Got A Hold Of God This Morning- Perrys
5. I Want To Be That Man- Brian Free & Assurance
6. I'm Still Amazed- Legacy Five
7. Just Preach Jesus- Kingdom Heirs.
8. Right In The Middle- Booth Brothers
9. Take It From Me Meshach- Triumphant Qt.
10. Unspoken Request- McKameys
Favorite Small Market DJ
1. Hamm, Randall- WFLQ- French Lick, IN
2. Hutton, Dave- KTTK- Lebanon, MO
3. Lamb, Alan- WSDC- Sneedville, TN
4. Whisnant, John- WCIS- Morganton, NC
5. Wishon, John- WWWC- Wilkesboro, NC
Favorite Medium Market DJ
1. Chambers , Richard- WGUS- Augusta, GA
2. Richardson, Gary- WJCR- Upton, KY
3. Rothell, Brian- WCON- Cornelia, GA
4. Squires, Lottie- WCKB- Dunn, NC
5. Taylor, Dave- KWFC- Springfield, MO
Favorite Large Market DJ
1. Britt, Daniel- WXRI- Winston Salem, NC
2. Guinn, Tim- WJBZ- Knoxville, TN
3. Hicks, Ken- WUSY- Chattanooga, TN
4. Taylor, Wanda- WXRI- Winston Salem, NC
5. Wallace, Wayne- WXJC- Birmingham, AL
Favorite Non-Performing Songwriter
1. Free, Ricky
2. Funderburk, Marty
3. Lister, Mosie
4. Peck, Rebecca
5. Wilkinson, Dianne
Favorite New Traditional Quartet
1. Canton Junction
2. Carolina Boys
3. Old Paths
4. Paul's Journey
5. Union Street
Favorite New Mixed Group
1. Allen Family
2. Heaven's Mountain Band
3. Mylon Hayes Family
4. Sneed Family
5. Taylors
Favorite New Trio
1. 11th Hour
2. Beyond the Ashes
3. Freedom Trio
4. Hyssongs
5. Red Roots
Favorite New Soloist
1. Hester, Chris
2. Hodges, Billy
3. Ladd, Steve
4. Paskvan, Abby
5. Primm, Angela