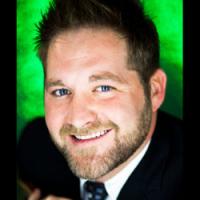 Paul Harkey Joins Ernie Haase & Signature Sound As New Bass Singer
By
EHSS
Tuesday, October 16, 2012
Ernie Haase & Signature Sound have announced that Paul Harkey will be joining the group as their new bass singer, filling the position recently filled by Ian Owens.
On the road since 2007, Paul Harkey has enjoyed singing and touring with respected groups like Crystal River, Anchormen and The LeFevre Quartet. With a bachelor's degree in Church Music from Wayland Baptist University, this Texas native is well-prepared for a new adventure with Signature Sound. "I was called into ministry," Paul said about his positive time serving as a church minister of music, but was encouraged to learn that singing on the road is "what I'm supposed to do," and "lets me fulfill what God's will is for me."

Paul, a self-described "regular guy" who loves hunting and fishing, has the support of his whole family as he joins Ernie Haase and Signature Sound. He and his wife Jennifer, and their daughter Cameron are also looking forward to meeting a new member of their family -- due in late April, 2013.
Group founder, Ernie Haase, stated "Paul has a voice that fills up the room," and will bring "another level of excitement" to any live listening audience.