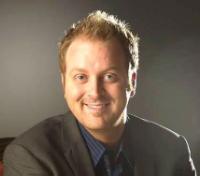 Matt Fouch Leaves Soul'd Out; Joins Legacy Five
By
Staff
Monday, August 20, 2012
"For the past eight years I have had the great opportunity to travel and sing with the guys of Soul'd Out Quartet (SOQT)," says Matt Fouch. "These men are high character individuals and it has been a pleasure to sing along side them. God has blessed SOQT and I am very thankful for the many friends I have made and the opportunities God has given through the ministry of SOQT.
"With that said, after much prayer, thought and consultation with my wife, I have decided to resign my position with SOQT and join the Legacy Five team.
"It is an honor and a privilege to join Legacy Five. These men have a wonderful calling on their lives and do a fantastic job. They are men of integrity and I couldn't be happier to join their ranks. I'm excited to see where God leads and what He does in this new season of my life.
"My family and I are thankful for your prayers and support, and I ask that you keep SOQT and Legacy Five in your prayers as He leads both groups in the calling He has placed on their lives. God bless!"
Soul'd Out Quartet's Matt Rankin says, "Soul'd Out Quartet wishes to thank Matt for eight years of service to the Lord and the group. We have been a part of seeing many come to Christ in those years. We have been a part of watching God's hand at work and have watched him supply the group's needs time and time again. We hate to see Matt leave Soul'd Out but we trust that God is leading this decision. We will be in prayer for a replacement and will continue our prayers and support for Matt Fouch, his family, and Legacy Five. Though change is many times difficult, the big picture is that we all are trying to serve the King. With that said, thank you Matt for making Soul'd Out a better group while you were here. We love you. God bless."

Legacy Five's Scott Fowler adds, "Seasons of life change for us all. Change is never easy but it is inevitable. The older I get, the less I like change, but with change comes the excitement of seeing what new and refreshing doors God opens for us. We are really looking forward to Matt's contribution to Legacy Five as bass singer, both on and off the stage. To Matt, Dusty, Michael and Bryan of Soul'd Out, I want to say how much I have appreciated how gracious and kind they have been to Legacy Five and Matt during this time of transition. I cannot remember when two groups have had this type of cooperation in a situation like this. They are truly good men and I have great respect for them."