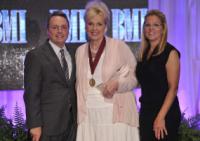 BMI Christian Music Awards Honor Genre's Most-Played Songs
By
BMI Nashville
Thursday, June 21, 2012
Pictured at the 2012 BMI Christian Awards on June 19 in Nashville are BMI's Jody Williams, 2012 BMI Christian Songwriter of the Year Kyla Rowland, and BMI's Leslie Roberts. (Photo by John Russell)
Nashville, TN - Broadcast Music, Inc. (BMI) celebrated the songwriters and music publishers behind the past year's most-performed songs in Christian music during the organization's annual Christian Music Awards, held at BMI's Nashville offices on Music Row.
Consistent chart-topper tobyMac earned his third consecutive Christian Songwriter of the Year crystal and shares the 2012 honor with Casting Crowns frontman Mark Hall, singer/songwriter Matt Maher, Southern Gospel staple Kyla Rowland and hit songwriter/producer Chris Stevens. The unusual five-way tie occurred because the hit-makers each wrote or co-wrote two of the songs on the year's most-performed list.
Included in the list of award winning songs were: "This Old Sinner Testifies" and "Did I Mention", both penned by Kyla Rowland—recorded by The Perrys, "I've Never Known A Day", written by Van Mitchell, Jr.,—recorded by The Inspirations and "You Were Faithful Yesterday", written by Rodney Griffin—recorded by Greater Vision.
During the ceremony, prolific family group the Isaacs, 2012 Dove Awards Artist of the Year Jason Crabb and dynamic contemporary Christian singer/songwriter Chris Tomlin each delivered inspirational performances.