Singing News/Solid Gospel New Artist Search- With Audio Files!
By
Staff
Monday, December 27, 2010
Singing News/Solid Gospel New Artist Search- Winners Announced!
The 2010 Singing News/Solid Gospel New Artist Search was a great success! Boxes of entries were sent in from around the country, and an all-star panel of judges got together to decide the winners. This year's judges were Bill Traylor of Mansion Records, Donna Beauvais, Joseph Habedank, & Allison Durham Speer.
And now, without further delay, we would like to congratulate the 1st Place Winner of this year's contest, Lonnie Weible of the group Down Pour, who submitted an original song, which you can hear by clicking here.
Lonnie Weible is a singer-songwriter from Martinsville, Indiana, and has a great story to tell. Stay tuned to this page on SingingNews.com and SouthernGospel.com for more of his story which we will share soon.
The five runners-up were the group Chapel Road, Distinction, Erica Eubanks, Determined, & Dayspring. Congratulations to them as well!
One of the options for entry into the 2010 Singing News/Solid Gospel New Artist Search was to have your submission made available on both the Singing News and Solid Gospel websites. So below, you can hear all of these entries in their entirety. Click on the name of the artist to hear their song, and click on the E-mail link if you wish to get in touch with them.
Thanks again to all those artists who entered this year's contest. You helped make the competition a huge success, and we hope to see everyone back for next year's contest which we've already started to prepare!
ORIGINAL CONTEST DETAILS AND PRIZES
WOULD YOU LIKE TO SING WITH MIKE, KELLY OR TERAH?
Are you the next big talent to be discovered?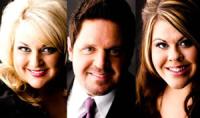 Despite their recent accident, The Bowling Family is overcoming obstacles and inspiring others with the Singing News/Solid Gospel Radio New Artist Search
"We would like to participate by singing a song with the winner of the New Artist Search" - Mike Bowling


The winner will receive:
A recording contract with The Mansion Entertainment Group which will result in a fully paid for 10 song CD.
Airfare to Branson and up to 5 nights hotel stay at Branson Towers to record your CD.
Opportunity to sing with Mike, Kelly or Terah on your CD.
A full tuition to Singing News University with Les Butler
artist may be substituted by equivalent artist according to artists' availability.
The 5 runners up will receive:
Hit southern gospel CDs from Singing News Magazine
Tuition to Singing News University. One full day of education, music business training and artist coaching hosted by Les Butler and other industry professionals.

Mansion Records currently has Triumphant Quartet and The Hoppers on their label. Will you be their next big artist?