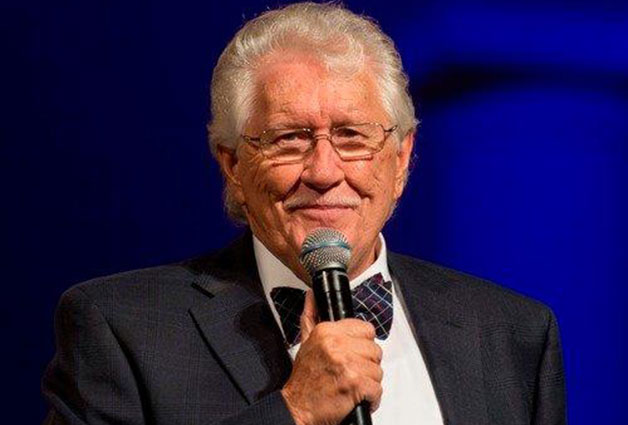 "Buck" Rambo Passes Away [UPDATED]
By
Staff
Sunday, February 21, 2016
Franklin, TN — Southern Gospel Music legend Richard Fay Rambo passed into eternity today at 6:02 p.m. "Buck", as he was known, had fought a brave battle with cancer in recent days.
Rambo's career was recognized with numerous GRAMMY and Dove Award nominations for his work with the original group, The Gospel Echoes and later with The Singing Rambos. For many years he took the stage beside his acclaimed wife Dottie and their daughter Reba.
The Gospel Music Hall of Fame began with Rambo as a founding member. He was also a Board member for the Gospel Music Association and in the 60's was a member of the Board of Directors for the National Quartet Convention.
Arthur Rice, President of the Southern Gospel Music Association said, "Buck was a leader with a keen business sense, but when you heard that voice, you knew God had gifted him with something special. The Singing Rambos were a true treasure".
Today the legend continues through Rambo-McGuire with daughter Reba and husband Dony McGuire who are joined with their daughter, Destiny. Their music is a testament of Gospel music from the past that looks toward the future.
Survivors include his wife Mae, daughter Reba Rambo (Dony) McGuire, grandchildren Israel Anthem McGuire, Destiny Rambo McGuire, Dionne (Scott) Dismuke, Dyson Dismuke, sister Hilda Bullock, brothers Donald (Betty) Rambo, Jackie (Shirley) Rambo of Dawson Springs, KY, sister-in-law Anna Jo Rambo of Hopkinsville, KY, and brother-in-law James Ausenbaugh. Dottie Rambo predeceased following a tragic bus accident in 2008.
Williamson Memorial Home in Franklin, Tennessee, will be assisting the family with arrangements.
Visitation will be 2-8 p.m., Sunday, February 28, 2016, at Williamson Memorial Funeral Home, 3009 Columbia Avenue, Franklin, Tennessee.
Funeral services to celebrate the life of Buck Rambo will be 2:00 p.m., Monday, February 29, 2016, at the Church of the City, 828 Murfreesboro Road, Franklin, Tennessee.
Private family burial will be held in Williamson Memorial Gardens.
Please keep the Rambo family in your thoughts and prayers during this difficult time.